Thank you for joining us on our Virtual Book Tour.
Today we Welcome Chelsea Hanson, the author of the Sympathy Matters Collection. Chelsea's interview offers many insights and practical suggestions on how to assist a grieving loved one.
Please feel free to comment or share your own experiences with grief and the healing process in the comment section below.
1. What inspired you to write the Sympathy Matters Collection?
The Sympathy Matters Collection started as a simple poem of comfort. When my mother, Donna, passed away unexpectedly right before Christmas in 1996, I knew that my family and the holidays would never be the same. To help with my grief, I wrote a poem, Hello from Heaven, to express what I thought my mother would want to say to us after she arrived in heaven.
Over time, I would enclose the poem in sympathy gifts for others. The response was overwhelmingly positive, and after many requests, I decided to publicly share this message, so I published my first gift book, Hello from Heaven.
As time passed, I was inspired to create more gift books to comfort others in their time of need, including Forever in My Heart, Merry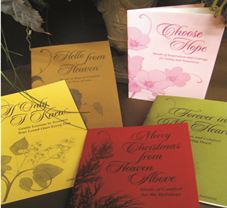 Christmas from Heaven Above, If Only I Knew and Choose Hope.
The collection of gift books from www.Sympathymatters.com has comforted people across the country and has been used by grief support groups, hospice and funeral home professionals.
But the gift books were just the beginning. As I continued to recognize the need for support at time of loss, With Sympathy Gifts and Keepsakes was founded. This is a site that provides gifts to express your sympathy with care as well as provide keepsakes to honor your precious loved one.
2. Is there any one thing that your family or friends did for you that assisted you through the grieving process? (i.e. a special card someone sent you, a favorite place they took you, listened when you needed support, etc.)
Just this last Christmas, my mother-in-law, LaVon, sent me a floral holiday bouquet that said, "Thinking about you at this time of the year," to express her care. My mother, Donna, passed away over 14 years ago right before Christmas. Thus, it meant so much that LaVon acknowledged the anniversary of my mother's death and provided support at Christmas time, which is typically a difficult time of the year for those who have lost someone.
As evidenced by this example, grieving people still need messages of sympathy for years to come after a death, especially on holidays, birthdays and anniversaries. You are not reminding them of their loss when you send a card or do something extra on these days. Instead, you are offering comfort and support that may still be needed. Remember, you can express your support at anytime to the bereaved.
It is also important to acknowledge the anniversary of the death. This is a hard day for anyone who is grieving, so your extra support on this day can be helpful. Communicate that you remember the date by calling, sending flowers, writing a note or what feels right to you.
3. Our website focuses on providing tips to friends and family members on how to support a loved one through the grieving process. What would be your top three suggestions on how to positively support a loved one that is grieving?
1. Reminisce. Continue to reminisce with your friend about his or her loved one's life. Sharing fond memories is a wonderful way to provide comfort. Remember, talking about the deceased will not hurt or upset the person grieving. In fact, it is just the opposite, your friend will appreciate that you are talking about their loved one. Please know that it is okay to talk about someone who passed away, and it is helpful to use the deceased's name in conversations.
2. Be yourself. Speak in a way and behave in a way that is natural for you. Continue the same relationship you had before: close friend, acquaintance, friendly neighbor, or work buddy. Offer help only if you are able to follow through, and in a way that makes sense in your life. Can you drive the carpool? Offer to drop off a meal? Mow the lawn once a week without even knocking on the door? Take the kids on a play date for the afternoon?
3. Learn about and understand grief. To understand what you friend is going through, do your best to learn about grieving. Everyone grieves differently, and there is no timetable on grief. By having an understanding of the process, you will have more compassion and be able to support your friend. Being a friend to the grieving will not always be easy. Your friend has changed and will continue to change as he or she journeys through grief. Your gift of support, however, will always be remembered and cherished by your friend.
4. You have a series of books (Hello from Heaven, Forever in My Heart, Merry Christmas from Heaven Above, If Only I Knew, and Choose Hope), do you suggest that readers read them in a certain order or do they individually stand alone.
Each book provides a separate message of healing and comfort to those traveling through grief.

• Hello from Heaven can be given at any time during the healing process, but it is particularly helpful at time of loss.
• Merry Christmas from Heaven Above can be used for the first Christmas after loss or any subsequent Christmas.
• Forever in My Heart is especially beneficial on the first anniversary of loss, but can be given at other times during the grief journey too.
• If Only I Knew is an inspirational book that reminds us to cherish our loved ones each and every day.
• Choose Hope is for families who have been affected by cancer, and provides words of hope and encouragement when facing cancer.
5. What is one thing you would like your readers to take away from your books?

The main theme in my writing is that your loved one is always loving you, watching you and guiding you from heaven. The book excerpts below illustrate this message:
"Though my life is over, I am closer to you now than I was ever before.
There are rocky roads ahead of you and many hills to climb,
but together we can do it taking one day at a time."
Excerpt from Hello from Heaven
"Let your faith be strong, for I'm home where I belong.
Please don't be unhappy because I'm not in your sight.
I'm by your side every morning, noon and night"
Excerpt from Forever in My Heart
6. What do you want our readers to know about you and your books?

My purpose is simple:
To ensure that the bereaved receive the sympathy and comfort they need in a caring and helpful manner. When you are not sure of what to say or do at time of loss, the Sympathy Matters collection can help you. Whatever book you may choose to give, be assured that you will express your sympathy thoughtfully and provide great comfort to the recipient.
My long term vision: Working together with grief support groups and educators, we can teach society more about loss, dying and grief. By increasing society's knowledge and comfort level surrounding death, dying can become accepted as a normal part of life, just like being born. In turn, our world will become better equipped to support and interact with people that are grieving.
7. Do you plan to write any additional books in the future?
Yes, I am currently working on a pet loss book, entitled "Wags and Whiskers from Heaven." The purpose of the book is to provide sympathy and comfort to pet owners who have lost a beloved pet. I recently lost three long-time family members (pets Owen, Emma and Fiver). Thus, this book is to honor them and to help others who have lost a four-legged family member.
About Chelsea Hanson

Author Chelsea Hanson has the special gift of finding the right words when they are needed most. Her reassuring words provide hope that you too will be able to journey through grief and find a new appreciation of life. For information on Chelsea's books, please visit: www.SympathyMatters.com.
As an entrepreneur, Chelsea is passionate about providing grief support. She is the founder of With Sympathy Gifts and Keepsakes, which was developed to help you express your sympathy remember your loved with a special keepsake or simply find additional support from those who have been there. For more information, please visit: With Sympathy Gifts or www.Facebook.com/WithSympathyGifts.